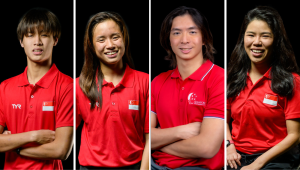 Above (Left to Right) Colin Soon Jin Guang, Sophie Soon Jin Wei, Toh Wei Soong, Yip Pin Xiu
(Image credits: Singapore Disability Sports Council/Andy Chua, Singapore National Paralympic Council)
Four para swimmers – Colin Soon Jin Guang, Sophie Soon Jin Wei, Toh Wei Soong and Yip Pin Xiu – have qualified for the World Para Swimming Championships 2023, and will be competing for the sport's first direct slots to the 2024 Paralympic Games. Sophie Soon will kick off the first race for Team Singapore today. 
Taking place over 7 days in Manchester, United Kingdom, from 31 July to 6 August, the World Para Swimming Championships 2023 is set to be one of the exciting races to look forward to this year, with over 546 para swimmers from 67 nations vying for one of the 270 direct qualification slots on offer for the Paris 2024 Paralympic Games. The top two ranked athletes in each individual medal event at the championships will earn these highly coveted slots for their country. 
Five-time Paralympic gold medalist, Yip Pin Xiu, will be seeking to defend her titles at the Championships in the Women's S2 Backstroke 50m and 100m events. Commonwealth Games silver medalist, Toh Wei Soong, who made his Paralympic debut in Tokyo 2020 and narrowly missed the bronze in the Men's S7 Butterfly 50m event by 0.16s, will also be eager to step up to the podium at the Championships. 
This championship marks the second time that the Soon siblings will be featured together, with both achieving their qualifications to the World Championships on home ground during the World Para Swimming World Series 2023 Singapore held in May this year. Sophie secured a silver medal and set a new Asian record in the Women's SB12 Breaststroke 100m event at the Madeira 2022 World Para Swimming Championships, while the youngest member of the team, Colin, 18,  had come in fourth in Men's S12 Backstroke 100m and Men's S12 Breaststroke 100m events in his World Championships debut then. 
"We began a 'podium potential' programme two years ago to provide a boost to para swimmers who we identified to possess the commitment, skill and aptitude to achieve more, but had yet to qualify for more support under public schemes. Additional training, competitions, sport science and sport medicine support were individualised and provided on top of what they would normally receive, with the help of our donors. Sophie and Colin were amongst the first athletes identified for this bridging support, and we are glad that they have been meeting new milestones one after another with the additional support. We are looking forward to their performance at the World Championships, together with Pin Xiu and Wei Soong, " shared Ms Kelly Fan, Executive Director, Singapore Disability Sports Council (SDSC).
###
Please download full media release from here.