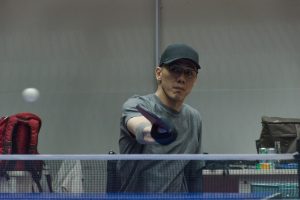 Para Table Tennis is the third largest Paralympic sport and is largely practiced amongst athletes all over the world.  It is governed by the International Table Tennis Federation through the International Para Table Tennis Committee (IPTTF) and adheres to the regulations set by the federation. In Singapore, the relevant organization for Para Table Tennis is the Table Tennis Association for the Disabled (Singapore). Table Tennis engages athletes with physical or intellectual impairments as competitive as well as recreational players.
In Table Tennis matches, the player scores when:
the opponent fails to return the ball,
the ball bounces twice
the ball is returned into the net
the return fails to hit the table on the player's side of the net
Depending on their functional ability, athletes may compete in standing or sitting classes and all athletes can compete in individual, double and team events.
Lower class numbers indicate a greater level of impairment for the sport. For seated athletes, the class is subdivided according to their sitting balance and hand function. For standing athletes, it is subdivided according to their standing balance. For class 11 athletes, the rules for able-bodied players will be adhered to accordingly.
Benefits of Table Tennis
The list of benefits of Table Tennis is impressive. The sport not only improves hand-eye coordination (by following the ball's trajectory), but also increases the flow of blood to the brain, hones cognitive skills and improves reflexes (working on both gross and fine muscle movements). It serves as an ideal activity to keep participants physically and mentally engaged, through fast pace movements and quick response. In addition, table tennis cultivates increased agility, balance, coordination, and a persevering attitude with an openness to challenge.
Results