Up and coming para swimmers Colin Soon, Janelle Tong, Jareth Wong, and Wong Zhi Wei broke national records

Toh Wei Soong emerged first in SDSC's first SKINS event, against 7 other former and current para swimmers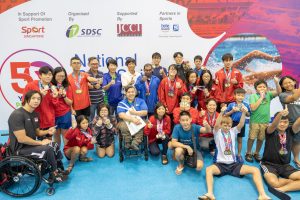 Special schools, swim clubs and para sport organisations throughout Singapore showed their strong desire to return to the National Para Swimming Championships 2023, with the end of the pandemic – as 67 para swimmers competed this year, nearly double that of 2022's number of 34 para swimmers.    
The 2023 National Para Swimming Championships saw 4 National Records being broken by up-and-coming para swimmers  – Colin Soon (50m freestyle at 27.65),  Janelle Tong (50m backstroke 53.37), Jareth Wong (100m freestyle at 1:13.49), Wong Zhi Wei (100m butterfly at 1:03.25).
In conjunction with its 50th anniversary, the Singapore Disability Sports Council (SDSC) also hosted its first SKINS event at the Championships, where outstanding alumni para swimmers were invited back to compete with current para swimmers, to inspire future generations of para swimmers to follow in their footsteps and defy their limits.
In this SDSC 50th Anniversary Para Swimming Challenge, alumni para swimmers Theresa Goh, James Leo, and Lieu Teck Hua competed against their currently active counterparts, such as Wong Zhi Wei, Toh Wei Soong, and Danielle Moi. The race took place during the multi-class point system, where swimmers' timings would be scored depending on how close they were to the world records in their respective classes. The closer they were, the higher points they would score.  
The SKINS was a tight race, with the strokes being selected by raffle – breaststroke, backstroke, butterfly, and freestyle- before the start of each round. 
In the fourth and final race, Darren Chan and Toh Wei Soong went head-to-head using freestyle. Wei Soong eventually triumphed with 659 points, over Darren's 475 points, and won the Challenge. 
Please download full media release from here