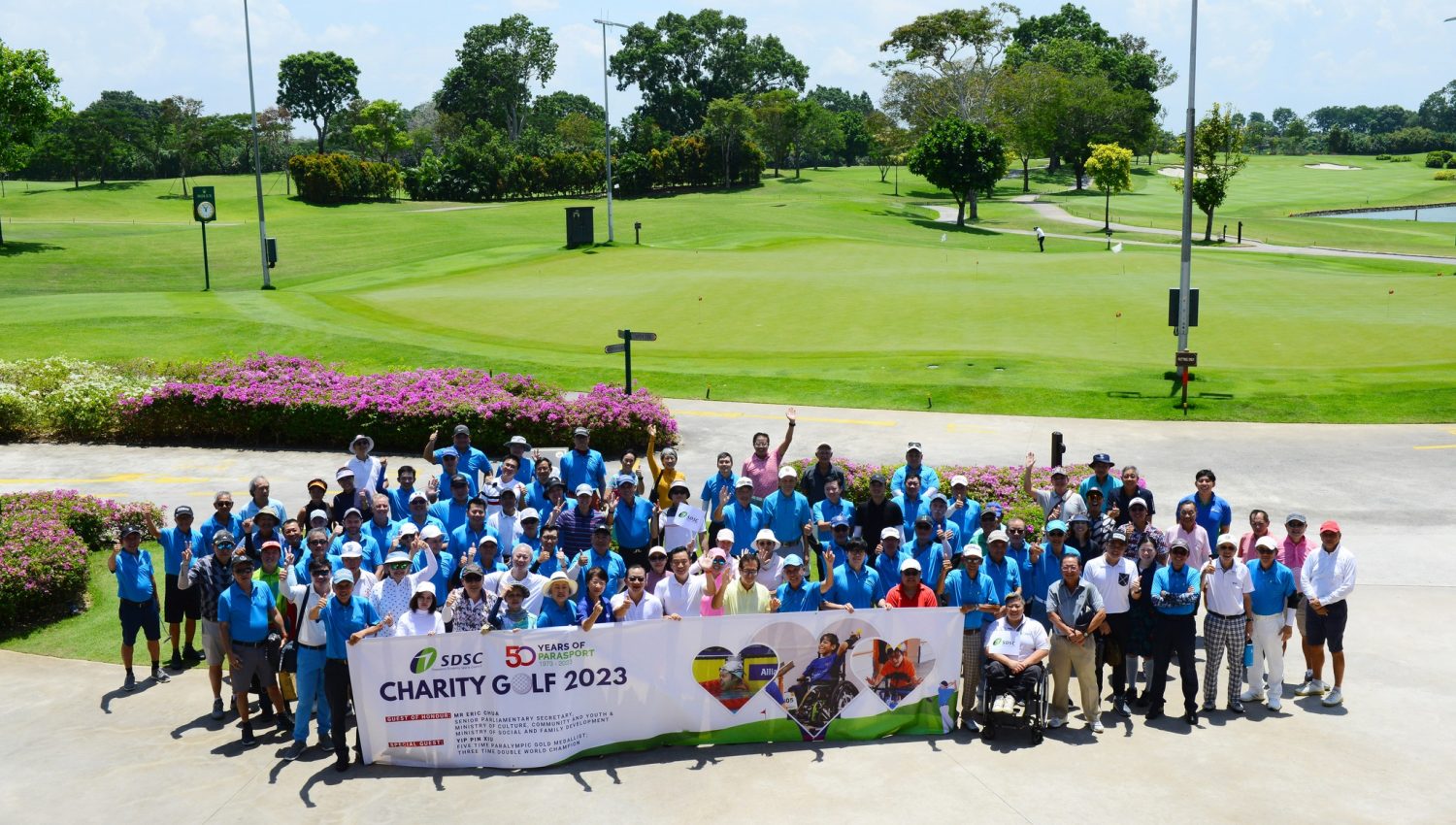 The Singapore Disability Sports Council (SDSC) is overflowing with gratitude as we reflect on the tremendous success of the SDSC Charity Golf 2023 event, held on August 24th. With your unwavering support, we raised an astounding $330,000! It's worth noting that the impact of your giving doesn't stop here – the government will match every dollar donated, amplifying the ripple effect of your kindness.
The compassion and unwavering dedication to our cause, "Transforming the lives of persons with disabilities through sport," have left us deeply humbled and inspired. Your belief in the immense capabilities of persons with disabilities shines as brightly as the sun on our golf course.
As we express our heartfelt thanks, we also want you to know that your support will ripple through the lives of many. Together with our beneficiaries, we are committed to harnessing the power of sport to empower persons with disabilities. Your generous contributions will be a driving force behind our mission, enabling us to extend a helping hand to more individuals and to illuminate their paths through the world of sports.
Your trust and generosity make all the difference in our journey, and we promise to utilise every dollar effectively, ensuring it serves as a catalyst for positive change in the lives of persons with disabilities.
Relieve the memories with us through: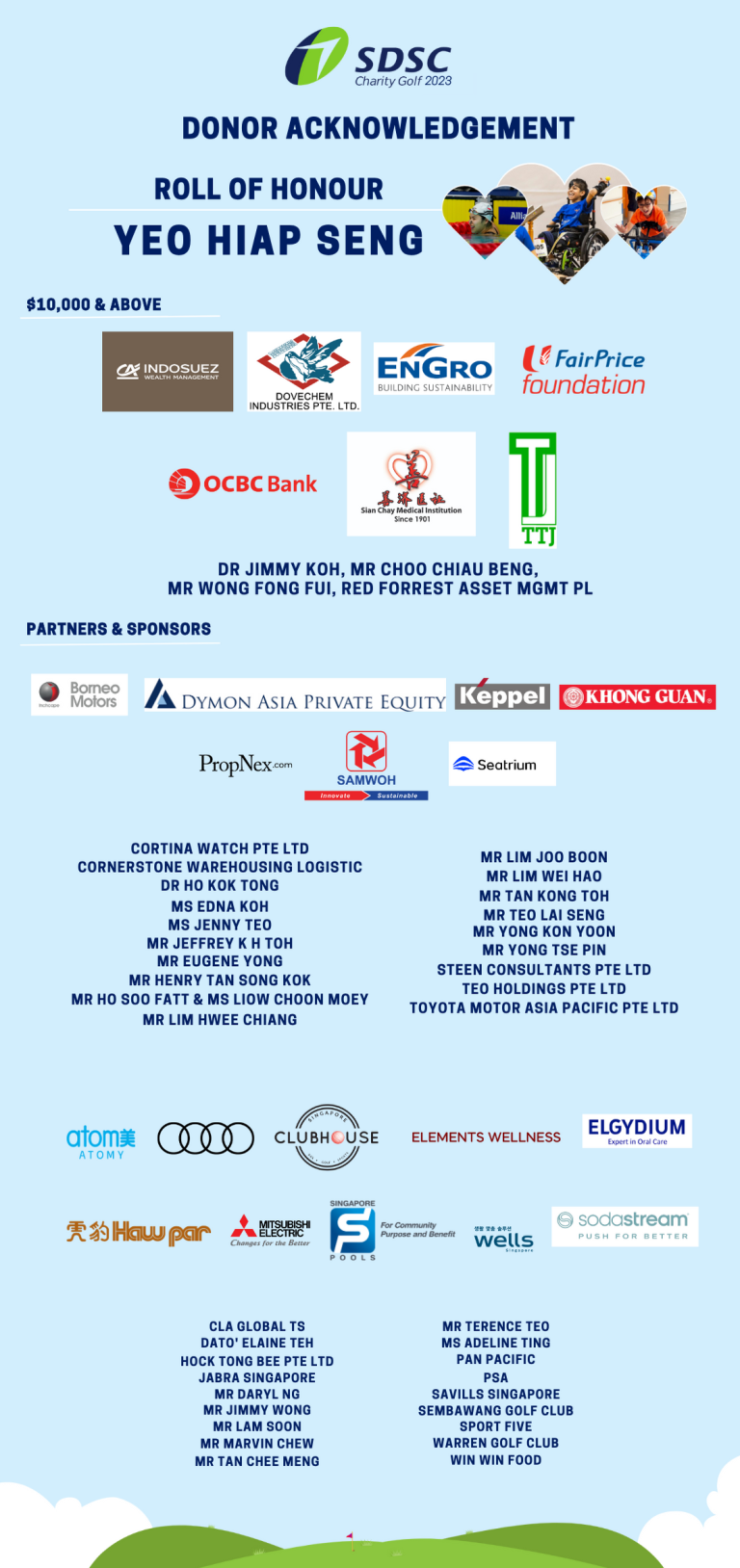 We are also grateful for the unwavering support of our organising committee:

(Co-Chair) Dr Jimmy Koh

(Co-Chair) Dr. Teo-Koh Sock Miang

Ms Adeline Ting
Ms Angeline Peh
Mr Cheah Hock Leong
Mr Fred Wong
(Tournament Director) Mr Kan Seng Chut
Mr Peter Cheong
SDSC's Charity Golf, held on August 4, 2022, at Singapore Island Country Club, aimed to spread SDSC's vision of transforming the lives of persons with disabilities through sport and its mission to build a vibrant and inclusive community where they can pursue their sporting aspirations. The event also sought to engage the wider community and raise funds to support this cause.
The day started with a sumptuous lunch buffet, one of the first events of its kind at SICC following the relaxation of pandemic measures. Donors and sponsors eagerly participated in the shotgun start, kicked off by Paralympian and SDSC board member, Yip Pin Xiu. Amidst the competitive spirit, golfers had some light-hearted moments, striking their best poses at the photo backdrop and indulging in light refreshments at the halfway house, which featured delicious baked goods from PAUL and ice cream. Excitement grew with the allure of two $50,000 hole-in-one cash prizes.
As the day progressed with favorable weather at the Island Course, the golfers who took part in this meaningful event had the opportunity to meet some of the beneficiaries of SDSC during the evening's dinner, held in the ballroom and featuring a sumptuous spread. The event was graced by the Guest of Honour, Ms. Grace Fu, Minister for Sustainability and the Environment, along with esteemed Paralympians and developing para athletes, including Yip Pin Xiu, Toh Wei Soong, Jovin Tan, Elaine Eng, Marius Marsden, and Aaron Yeo.
Awards were presented to the top golfers in various categories, including Males, Females, and novelty categories like ball sweep and nearest to pin. Guests also participated in a meaningful charity auction, featuring items donated by Paralympic medalist Yip Pin Xiu, former World Champion para archer Syahidah Alim, and a night's stay at Raffles Hotel's Presidential Suite with dinner at La Dame de Pic. Additionally, beautiful calligraphies from Cultural Medallion winner Mr. Lim Tzu Peng were showcased. The lucky draw offered over 60 prizes, with the Monoeco Water Purifier as the top prize.
All the participating golfers received goodie bags worth nearly $500 each as a token of appreciation.
The event successfully raised $500,115, which will greatly support SDSC's programmes and beneficiaries. We extend our heartfelt gratitude to the generous support of our kind donors and sponsors.
Male Top 3
Hwong J K 
Gordon Wong
 Jason Lee
Female Top 3
Amy Liow
Jasmine Ng
Ai – Lin Phua
 
---
Nearest to Pin  (Hole 2, 7, 11, 14 & 17)
Hole 2: Henry Tan (2A) – 3M 

Hole 7: Philip Floyd (8B) – 1.5M

Hole 11: Xie Zhi Chun (9A) – 0.1M

Hole 14: Seo Myung Soo (16A) – 11M

Hole 17: Feng Lijun (9A)

   



                  
                        

 Arie Darma Enterprises      DLOH Strategic Development   Keppel Care Foundations     SportFive   Steen Consultants    
Teo Holdings    Trivec Singapore     Wong Partnerships    Nexia TS     MST Golf  Ruhens
Donors
Best Technology
Borneo Motors Singapore
Jabra Singapore
Kosland
Lexus Asia
Ms Ellen Lee
Mr Jimmy Wong
Mr Kang Tze Wei
Mr Koh Choon Heong
Mr Kon Yin Tong
Mr Tan Ek Kia
Mr Tan Koh Young
Mr Sunny Chew
Ms Syahidah Ali
Ms Yip Pin Xiu
PH Hydraulics and Engineering
Steady Offshore Shipping
Mr Choo Chiau Beng
Ms Elaine The
Mr Eugene Yong
Mr Ho Kim Swee
Mr Jeffrey Toh
Mr John Lim
Mr Lee Tsu Yang
Ms Loh Ju-Fern
Mr Louis Lim
Mr Ronald Ho
Mr Teo Lai Seng
Mr Wong FF
Mr John Ng
Dr Kee WH
Mr Steven Yeo
Mr Sunny Chew
Mr Richard Foo
Mr Richard Wong
We are also grateful for the unwavering support of our organising committee:
Dr Jimmy Koh (Co-Chair), Mr Ho Cheng Kwee (Co-Chair), Ms Adeline Ting, Ms Angeline Peh, Mr Cheah Hock Leong, Mr Fred Wong, Mr Kan Seng Chut (Tournament Director) and Mr Peter Cheong
Male Top 3
BK Teo
Francis Ngooi
Patrick Joyce
Female Top 3
Lam Shiao Ning 
Amberly Wu
Amy Liow'
---
Ball Sweep (1st Nine)
Mr Patrick Joyce
Mr Elffy Arifin 
Ball Sweep (2nd Nine)
Mr Loke Poh Lam
Mr Leonard Yap Sung Kwang
Nearest to Pin
Mr Paul Pang
Mr Terry Ha
Mr Leonard Yap Sung Kwang