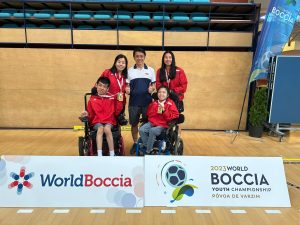 Above (left to right; top row to bottom row) Aloysius Gan's mother and competition partner, Eve Cher;  father, Kagan Gan; Yan Jia Yi's competition partner, Chew Ziqun; Aloysius Gan; Yan Jia Yi  
(Image credit: Singapore Disability Sports Council)
Singaporean boccia athletes Aloysius Gan and Yan Jia Yi have etched their names in history by capturing the championship title in the BC3 Pairs event at the inaugural World Boccia Youth Championships. 
This follows resounding victories in their BC3 Individuals events, where Aloysius Gan emerged as the Champion in the BC3 Individuals (Male) category, and Yan Jia Yi claimed a well-deserved bronze medal in the BC3 Individuals (Female) category. 
The highly anticipated World Boccia Youth Championships took place from 8th to 14th July in Povoa de Varzim, Portugal, featuring close to 50 aspiring youth athletes with disabilities from 12 nations. Aloysius and Jia Yi were accompanied by their competition partners, Eve Cher (who is also Aloysius' mother), and Chew Zi Qun. 
This remarkable victory follows Aloysius's recent success at the ASEAN Para Games, where he secured a silver medal in the BC3 Individuals (Male) event. Reflecting on his achievements, Aloysius humbly stated, "I've chosen the right tactics and have been able to execute what I trained for in Singapore. After winning my first end, I had to maintain my composure and focus for the subsequent matches. I believe this is the key to winning the game."
Jia Yi also expressed her excitement and gratitude, saying, "I am thrilled to have performed well and won the bronze medal in the BC3 Individuals (Female) event. I would like to thank Zi Qun jiejie (big sister) for her support throughout this competition."
"We are incredibly proud of Aloysius and Jia Yi for their outstanding achievements," said Kelly Fan, Executive Director of the Singapore Disability Sports Council (SDSC). "They still have a long way to go, but this is a promising start. We were able to unearth their potential, thanks to a very supportive system at the Cerebral Palsy Alliance Singapore School, and Tiger Balm's longstanding support for the boccia team's training and competitions. We hope that more educational institutions and corporates will come forward to support our youths with disabilities, enabling them to realise their full potential through sport."
Please download full media release from here.