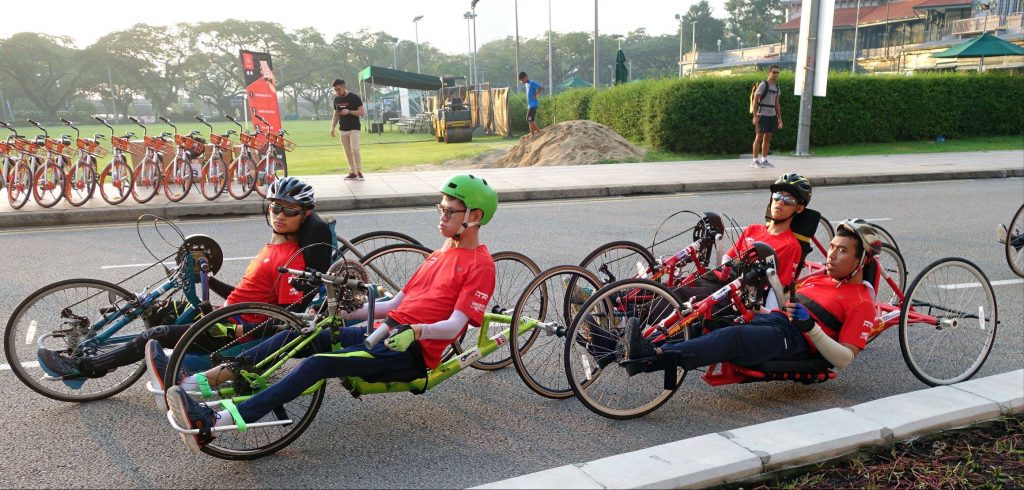 Para Cycling is one of the world's fastest growing disability sports and one of the biggest sports at the Paralympic Games in terms of medal events. In Singapore, SDSC works with the Para Cycling Federation of Singapore (PCFS) to promote Para Cycling as a competitive sport, a recreational activity, and a means of rehabilitation. Para Cyclists in Singapore have competed in events such as the ASEAN Para Games, the Singapore National Para Games and the Singapore International Para Cycling Cup.
Para Cyclists in Singapore are trained and developed in four divisions:  Handcycles, Bicycles, Tricycle and Tandems.  Persons with physical impairment can train/compete on bicycles or handcycles. Handcycles are usually tricycle in form, which includes a steerable front wheel and two rear wheels.  Handcycling requires peddling the hand bike sitting down using arm power, hence improving the cyclists' arm and core muscles. Trike Cyclists often have impairments that affect their coordination and balance. As such, using a tricycle helps to improve stability. Cyclists with visual impairment train and compete on tandems (which are two-person cycles) with a sighted 'pilot', working with their legs to reach explosive speeds. Meanwhile, other athletes use bicycles with modifications made according to their impairments.
Para Cycling is divided into track and road events and is suitable for all levels.
Classifications for Para Cycling are as follows:

The number in each division represents the class with a lower number indicating a more severe impairment.
Benefits of Para Cycling
Para Cycling brings about a copious amount of physical and mental health benefits. It provides participants with a low impact fat-burning cardio workout to keep them active and offers alternative rehabilitative physiotherapy for people who are recovering from injury or those with disabilities such as cerebral palsy, stroke and amputations.  The sport takes participants on an exhilarating journey towards a healthier lifestyle and helps nurture a mindset of perseverance that comes from adapting to weather conditions and the unpredictability of road races. Whether it is in a racing arena or against the beating wind on the road, Para Cycling promises high-speed thrills and gives participants a taste of adventure.