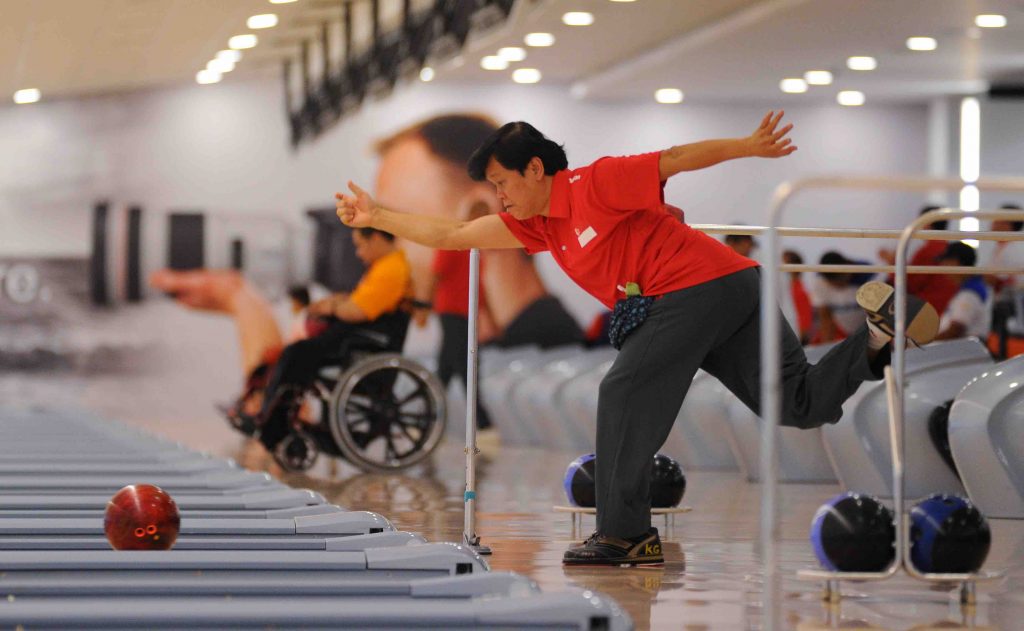 The Bowling Association for the Disabled (Singapore), or BADS, in short, is a non-profit sports association. BADS was set up with the objective to create bowling environments and opportunities for all disabled persons in Singapore, regardless of background, ability, and experience. In collaboration with the Singapore Disability Sports Council (SDSC), their ultimate aim is to organise and co-ordinate bowling activities with the intent to train an elite team of disabled bowlers to represent Singapore in international competitions.
Bowling is an inherently adaptable sport. Hence, it can be easily catered to disabled persons through the use of adapted equipment. For instance, ramps and balls with equipped handles are available for children or bowlers who are unable to use their fingers to hold and/or swing the ball. Rails are also available for the blind and visually impaired as a guide for ball delivery. Furthermore, for new players or children, gutter rails can be set up to generate interest in the sport.
Like other para-sports, Tenpin Bowling also has classifications to make sure that athletes compete with others of the same abilities. According to the International Bowls for the Disabled (IBD), the recognized classifications are:

Benefits of Bowling
Bowling is similar to that of walking with free weights, which is a form of anaerobic exercise specializing in the use of resistance to build muscular strength and endurance. It also helps to burn calories in muscle groups that are not usually utilized in ordinary exercise; the flexing and stretching in bowling works tendons, joints, ligaments, and muscles in the arms, and promotes healthy weight loss. Apart from the physical, bowling is a social sport and hence, provides psychosocial benefits to participants as they build and strengthen friendships in their groups.
While most sports are not for the elderly, bowling is observed to be highly adaptable. It is then possible for individuals at advanced ages to practice bowling safely. Furthermore, due to the nature of resistance in the exercise, bowling is also proven to be an excellent interventionistic and rehabilitative exercise for the elderly, wheelchair users, and individuals with muscular deficiencies.