15 May 2018
Donation of $20,000 to SDSC will qualify for matching funds under the OneTeamSingapore Fund, and boost support for para cyclists' high performance pathway
First initiative would be the professionalization of the local para cycling championship, making it the first-ever C1 race in Singapore, sanctioned by Union Cycliste Internationale
The Singapore Disability Sports Council (SDSC) is delighted to announce its partnership with EFA Group, on their adoption of the Para Cycling High Performance Programme for 2018. The $20,000 sponsorship, together with matching funding that SDSC would qualify for under the OneTeamSingapore Fund, will be channeled to a range of high-performance related activities for the para cycling team starting from May 2018, led by both SDSC and the Para Cycling Federation (Singapore) (PCFS), an associate member of SDSC.
The donation marks the first corporate adoption of the para cycling team. The team debut at their first major game – the 9th ASEAN Para Games – last year in Kuala Lumpur, Malaysia, and returned as the most bemedalled team of the contingent, hauling 14 medals of a total 50-medal tally for Singapore.
To date, three para cyclists have qualified for the Asian Para Games 2018, which will be taking place in October in Jakarta, Indonesia. The cyclists' performance at the Asian Para Games will provide sensing of their potential towards the Paralympic Games.
Beyond the great start of the partnership, SDSC and PCFS would be providing platforms for EFA employees to learn from the journeys of para athletes, and bridge their interests with staff volunteer exposure.
"Just as lack of financing should not hamper the growth of good businesses, we believe that no one should be excluded to participate in a sport they excel in because of a disability or insufficient funding. We are confident that by providing them with the right resources and support, this team of high performance athletes can be steered to succeed. This partnership also goes beyond having our logo on a banner or t-shirt. It is a great opportunity for our employees to interact with the athletes and understand how they overcome challenging situations with adaptability and tenacity, an invaluable lesson that applies both professionally and personally," said Mr Francois Dotta, CEO of EFA Group.
With the Para Cycling team's aspirations taking off under EFA's sponsorship, SDSC is also on the lookout for more partners to adopt other para sports teams. Ms Kelly Fan, Executive Director of SDSC, said, "The EFA partnership is based on a new formula we are exploring, whereby the adopter not only accesses a single team, but is offered flexible opportunities across various sports to cater to diverse interests within the organisation. We hope that this new formula will bridge more ardent partners with our talented athletes with disability, and bring them excitement in sharing our discovery of the next Theresa Goh and Yip Pin Xiu."
Singapore International Para-cycling Cup 2018
One of the first high performance initiatives that will benefit from the EFA donation would be the local national para cycling race. On 27th May 2018 (Car-Free Sunday), SDSC and PCFS will be hosting the Singapore International Para Cycling Cup (SIPC) 2018, an upgraded edition from its inaugural launch in 2017. The SIPC 2018 would be the first local cycling race to be sanctioned as C1 by Union Cycliste Internationale (UCI), the International Federation for the sport of cycling, which means that participants would be clocking UCI points towards qualification for the Tokyo 2020 Paralympic Games. Para cyclists from Malaysia, Thailand and Romania have registered to compete against Team Singapore.
There will be two waves for the race – wave 1 for handbikes and trikes (persons with lower body immobility), and wave 2 for tandem bikes and bicycles (persons with visual impairment and amputees). This would be the first time Singaporeans can witness trikes in action, which will be raced by Romania and Malaysia.
The races will take place from 6am to 8am on 27 May (see Annex A for the race route). At 8am, supporters can try out hand cycling or blindfold cycling, or cycle alongside junior para cyclists for a Ride-for-All campaign over a distance of 1.7km, to help advocate inclusive cycling. A target of 100 cyclists is set for the Ride-for-All campaign. Public are encouraged to contact SDSC at corpcomm@sdsc.org.sg to register your interest in the activities.
Media Invitation
Journalists and photographers are invited to meet the teams on the race day, and experience hand cycling or blindfold cycling. Please RSVP your attendance to Ms Wee Yee Ting at yee.ting@sdsc.org.sg or +65 9852 6103, by 23 May 2018. Thank you.
###
For media enquiries and interviews, please contact:
Wee Yee Ting
Corporate Communications
M: +65 9852 6103
Siti Rasiqah
Head of Communications
About EFA Group
EFA Group is a global independent asset manager specializing in private debt strategies. Established in 2003, the firm manages over US$1.2 billion of capital with a cumulative 25-year track record of positive performance across all of its funds. EFA is regulated by the Monetary Authority of Singapore, the Dubai Financial Services Authority and has over 70 personnel across offices in Singapore, Dubai, Geneva, London, and Istanbul.
About Singapore Disability Sports Council (SDSC)
Singapore Disability Sports Council (SDSC) is the only organisation in Singapore that caters to sports for persons across all kinds of disabilities, over 20 sports. It aims to help persons with disability lead full and independent lives through sports. Besides providing sporting opportunities for them to realise their potential, SDSC trains talents to represent Singapore and pursue excellence at regional and international competitions. More information at www.sdsc.org.sg
Annex A – Route of SIPC 2018
Venue: 1.7km Cecil / Robinson Road circuit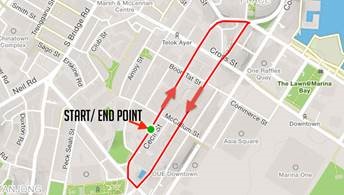 For news coverage on the event, please refer to:
Para Sports: Team Singapore para-cyclists get $20,000 boost from EFA Group (The Straits Times 15 May, 2018)