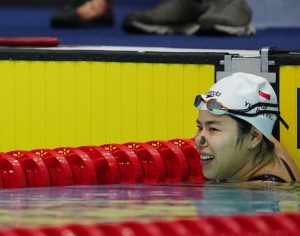 Above: Yip Pin Xiu at Manchester 2023 Para Swimming World Championships 
(Image credit: Singapore Disability Sports Council/Jon Super/SportsNewsAgency)
5-time Paralympic medalist Yip Pin Xiu sealed the first swimming slot for Singapore to the Paris 2024 Paralympic Games with a dominating win in the Women's 100m Backstroke S2 event at the Manchester 2023 Para Swimming World Championships. 
Powering with a steady stroke, Yip began pulling distance from her competitors in the first 25 metres and homed in eventually on the win with a timing of 2:17.78, close to 11 seconds before second-placed Angela Procida (Italy). The win guaranteed a slot for Singapore to the 2024 Paralympic Games – the nation's second after the archery slot secured by Nur Syahidah Alim earlier in July at the Pilsen 2023 World Para Archery Championships. 
Though this marks the sixth world title for Yip, the seasoned Paralympian shared that it had not been easy for her, entering this year's World Championships. "I had fallen ill right before the races began, which made me uneasy that I wasn't ready to give my best, but I knew that I had been training hard, so I relied on mental strategies to trust that I could carry that through. There was a lot of pressure on myself because winning may seem easy and expected of me, but it really isn't. I don't take anything for granted and make sure that everything is a deliberate choice, from training, tapering to rest and recovery. It changes every time because every race and cycle is different and I feel different," Yip confided. 
"This world title means a lot to me. It's a reminder that I am not going to sit on my laurels. It's also amazing that it gives us a shot at the Paralympic Games next year, and I'm ecstatic that we have a checklist of what we need to continue working on. I will focus on getting my body and mind in the best condition to continue doing my best." 
Taking place over 7 days in Manchester, United Kingdom, from 31 July to 6 August, the Para Swimming World Championships 2023 is one of the exciting races to look forward to this year, with 546 para swimmers from 67 nations vying for one of the 270 direct qualification slots on offer for the Paris 2024 Paralympic Games. The top two ranked athletes in each individual medal event at the 2023 championships will earn these highly coveted slots for their country. 
Besides Yip, three other para swimmers from Singapore – Colin Soon Jin Guang, Sophie Soon Jin Wen, and Toh Wei Soong – had qualified and are competing in the 2023 World Championships.
###
Please download full media release from here.