"2020 was a very interesting year" said Delia with a wide smile on her face.
While many felt hard hit by COVID-19, Delia Kang, a para triathlon athlete in her 50s, is of the opinion that the year 2020 was an interesting one. Kang started her journey as a para triathlon athlete in 2019, and she was still thankful for being able to participate in the MetaSprint Duathlon Race in February 2020 before the implementation of Circuit Breaker due to Covid-19.
"The MetaSprint race was very fun. I don't think I did very well, but it was a good day and I enjoyed it very much. We were actually quite worried it'll get cancelled but thankfully the MetaSprint continued and shortly after that, the Circuit Breaker happened. The race was held in Sentosa and consisted of a 750m swim and a 5km run," shared Kang.
Soon afterwards, training had to be done at home and physical races transitioned to be held virtually. As an athlete, keeping herself fit is her utmost priority and despite being unable to set foot outside of her home. Kang managed to keep up with a seven-day training programme, with some days consisting of a few sessions and some days only one. Between the month of August and November, Kang participated in duathlon race simulations every Saturday, before going for a break in December where she had three weeks of unstructured training.
According to Kang, training at home would not have been possible without the help of certain organisations which allowed athletes to borrow equipment.
"That was how the virtual races were done. Everyone said 2020 was a virtual year, and it was thanks to Para Cycling Federation Singapore (PCFS) that we managed to borrow some equipment, which is still in my house, so we could continue our training at home. Also, the gym that I attend for my crossfit sessions loaned out weights so that we can do a bit of gym at home as well," said Kang.
2020: A Year of Gratitude and Self-Analysing
Apart from being thankful for a family, who has always been supportive and understanding of her journey as an athlete despite her visual impairment, Kang also expressed her gratitude to her coach, Christian, who she has known since 2017.
Weekly catch-ups have been helpful for both to build rapport and trust, which are imperative between a coach and an athlete. Christian has also helped Kang keep her expectations true when it comes to racing and understanding herself better through mental processes.
"The other thing was when we did our series of race simulations. My coach, Christian, was constantly reminding me that performance is important, but the process is much more important. You need to enjoy the process, understand and analyse. So through those series of cycles, I learned a lot about mental processes. Racing is painful, so you need some kind of motivation to get through it. How to keep myself motivated, how do I bring myself to a mental state where I can give a decent performance. So, the mental journey for me is the most important thing I've learnt throughout the cycles," said Kang.
Tips for Keeping Yourself Fit from an Athlete's Perspective
Maintaining an active and healthy lifestyle has always been a dream for all, yet the process can be arduous for some, especially when food is an integral part of the Singaporean culture. When asked about tips for keeping an active lifestyle, Kang emphasised the importance of gradualness and consistency. She observed that people who initially start out very enthusiastic about picking up an exercise routine tend to overdo it until they get tired too quickly and eventually give up.
"If you want to take up running and you're new to it, start bottom up. Start by brisk walking 3 times a week and then if you can 5 times a week and then start jogging 3 or 5 times a week. Step by step – it's like a building block," said Kang.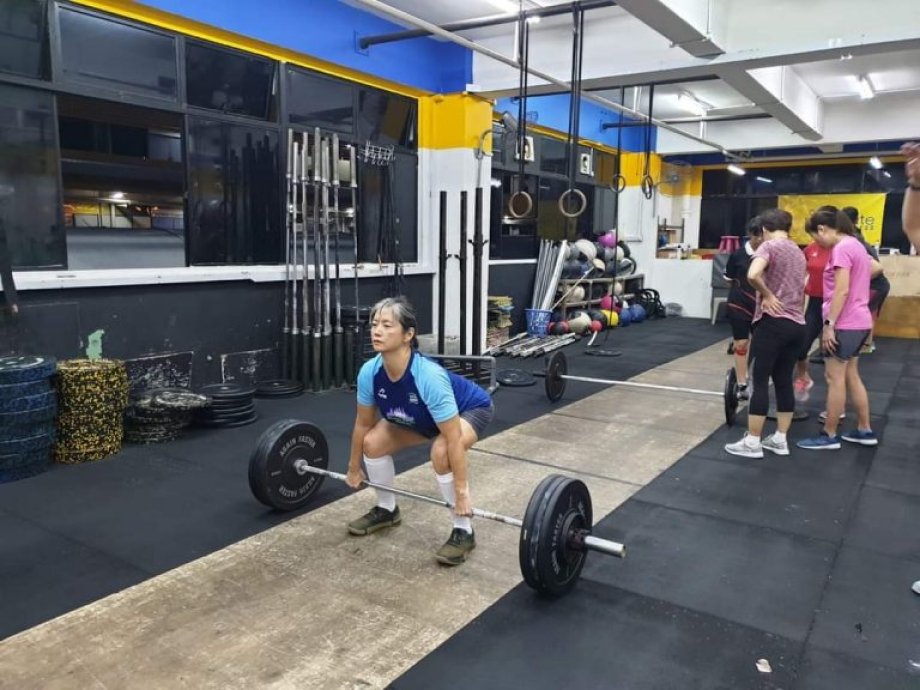 What people also often forget or take for granted is the importance of a recovery period. It is during the recovery period that the body replenishes itself and gets stronger.
In addition to that, keeping fit and observing a well-balanced diet needs to happen simultaneously, especially when one sets a goal to lose weight. She has seen many around her who are physically active, yet their weight does not decrease due to unobserved food intake and eating time. As setting a diet might be complicated for some, talking to a nutritionist or coach will help in figuring out the best diet plan for a start.
Personal Goals and Hopes for 2021
Kang is looking forward to her first physical race after one year,the Duathlon MetaSprint Race, scheduled to be in February 2021. Although the race will be held with strict safe measurements such as staggered reporting time and small group arrangements, it doesn't hold back her excitement and anticipation for the race. On top of that, she will also be working on training for Olympic-distance races which is double of the distance she is currently training and hopes to participate in a race during the second half of the year.
Apart from that, for the year 2021, Kang wishes all para athletes to keep well, healthy and keeping fit despite the uncertainties of the major games happening due to the pandemic. She also hopes that the situation will ease and things start opening up gradually so that the athletes have more to look forward to while training for the major games.