The last stretch of preparations for the Tokyo 2020 Paralympic Games are officially in full swing. Our para cyclist, Steve Tee Wee Leong, pilot and athlete competition partner Ang Kee Meng, and their coach Athena Han are now in Wales for a training camp.
The pair have been selected to represent Singapore at the Tokyo 2020 Paralympic Games, marking Steve's first outing at the Paralympic Games. This is also a historic achievement for Singapore as it will be the first time that Singapore will participate in a cycling event at the highest level of sport.
Save this page and get a peek into their training camp we bring you periodic updates from the trio who will be blogging from Wales.
Follow the pair on Instagram at @steve_and_keemeng.
Blog Entry 1 (2 July 2021):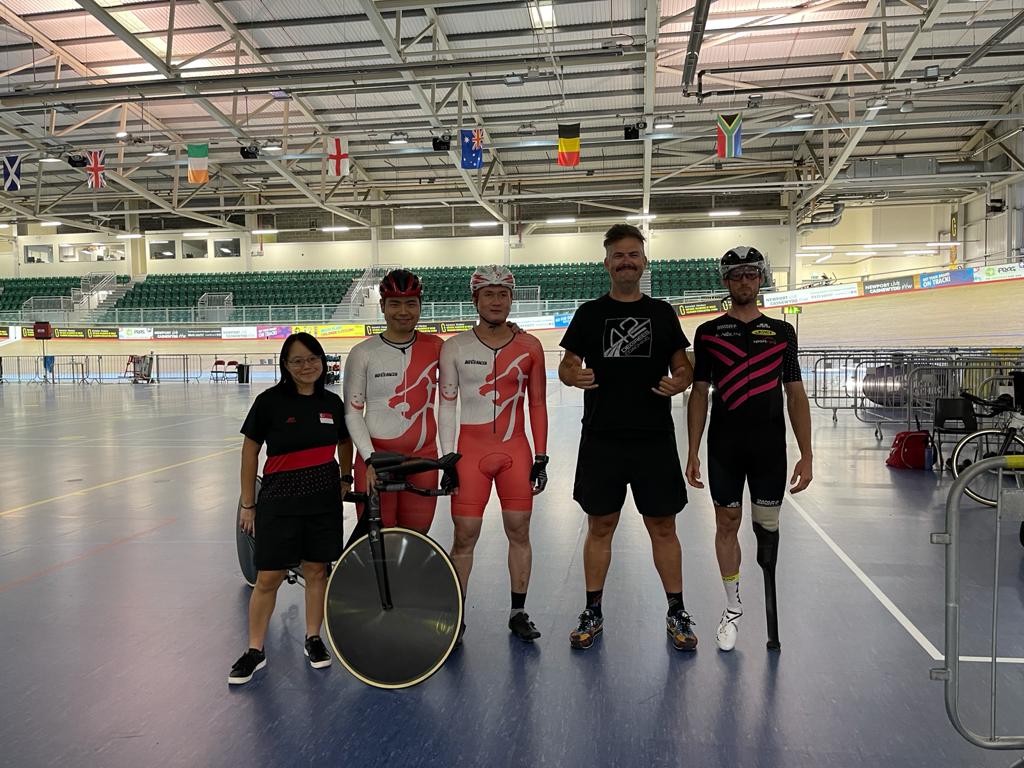 Steve & Kee Meng
Q: It's been a while since you have both trained together, in the same country. What's the first thing you said when y'all met each other?
Steve & Kee Meng: Training has been great and we are getting into gear for velodrome training. Us coming to Wales for velodrome training was a great choice as we do not have velodrome in Singapore. First time back on the track for almost 1.5 years and the track riding sensation is coming back slowly. Each training has pushed us harder and we are seeing the results.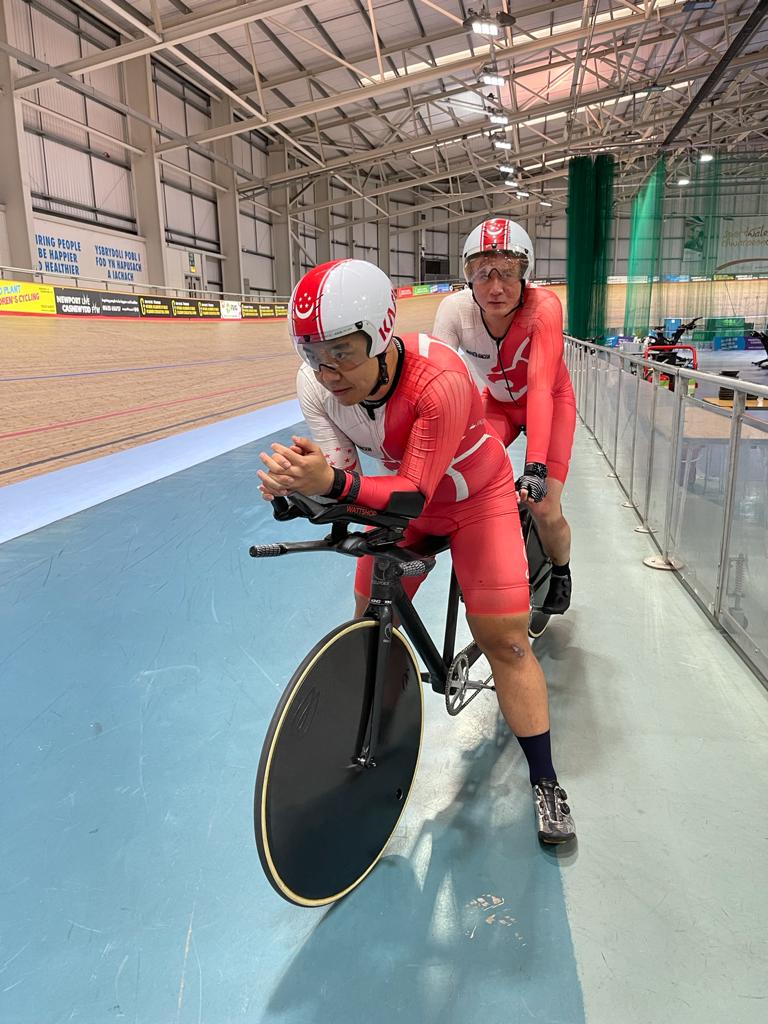 Q: Have there been any challenges adjusting?
Steve & Kee Meng: Initial challenge was the weather as it is much colder than in Singapore. Also needed to adjust the way I rode here as the roads and drivers operate in a slightly different manner.
Q: What is a typical training day like and how is the workload for the week?
Steve & Kee Meng: We are training on the track at least 4-5 times a week and about 3-4 hours each time. Besides track we still have to do our road training as well on other days. It's full gas from now on so workload will be pretty high and intense. But recovery is also a important part of training. Alot of emphasis on recovering as much as we can in between sessions as well.
Q: How did it feel like to ride in a velodrome again?
Steve & Kee Meng: Strange and awkward. But after 1-2 sessions and we are back at it again and clocking better times during each training.
Q: What are the key things you are focusing on these two weeks?
Steve & Kee Meng: We are focusing on pacing work and also power endurance on the track to build our engine to be more consistent to take the kind of high workload we are putting through each training.
Q: Any messages for your supporters back home?
Steve & Kee Meng: Pubs are amazing in UK! But we have not visited one yet. Like always, we will do our very best to make Singapore cycling proud and hope that everyone will be part of this journey with us. Let's hope that someday Singapore will have a velodrome of our own to ride on.
Coach Athena
Q: How has training been so far?
Coach Athena: So far so good. The guys are settling into a good rhythm, adapting fairly well to the training load, and adapting to the sessions that our track coach, Kyleigh Manners, is prescribing.
Q: What is the difference between training in Singapore and training overseas?
Coach Athena: A velodrome 🙂
Q: Having a training camp with other teams is quite normal. Can you share more about the benefits that brings?
Coach Athena: It's pretty cool to be able to catch a glimpse of how Jozef Metelka, a para cyclist who's been at the top of his game for a number of years now trains.
You would always hope that training with someone that much stronger would broaden their view of what can and should be done in training and prepping for races. Obviously the same things won't work for everyone, but you'd hope to push the boundaries of what your athletes think of as possible, and better yet, the norm.
Q: How's the team spirit and morale going into the Tokyo 2020 Paralympic Games?
Coach Athena: I'd say it's gingerly getting stronger, now that we have put in two weeks of good work on the track.
Blog Entry 2 (14 August 2021):
Steve, alongside Kee Meng, was recently crowned Sportsman of the Year (Resilience) at the recent Singapore Disability Sports Awards 2021 presented by Haw Par Corporation.
"The journey is like a roller coaster ride for me, from having setbacks of back injuries and going through surgery last year. This didn't stop me from bouncing back three months later to make it a comeback to continue to train for the Paralympic Games.I would like to dedicate my quote to everyone out there, "Do not allow setbacks to hold you back, bounce back from your setbacks to make it a comeback," said Steve.
Click through for some lovely photos of Steve and Kee Meng. Photos taken by Huw Fairclough.