7 January 2022
Team Singapore's 13 athletes at the Bahrain 2021 Asian Youth Para Games (AYPG) secured Singapore's second-best showing at the AYPG, winning five gold, three silver and two bronze at the fourth edition of the Games. Singapore's total medal haul of 10 medals is the second-most number of medals any Team Singapore contingent has won at the AYPG.
We spoke with three athletes, Aloysius Gan (Boccia), Janelle Tong (Swimming) and Caleb Lee (Table Tennis), as they reflected on their Bahrain 2021 AYPG experience and found out what's ahead for them in the coming months.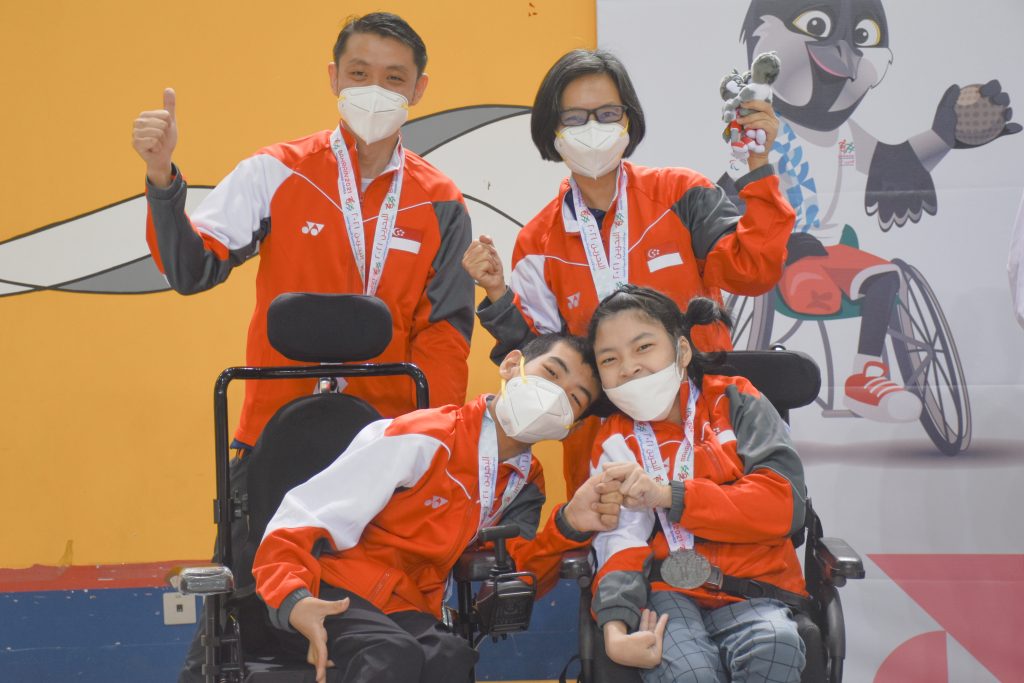 1. How did you prepare for the Games?
ALOYSIUS: I trained with Nurulasyiqah Mohammad Taha before the competition, especially the last 2 weeks before my competition, she practiced with me for different scenarios like playing long distance, defending the game and allowed me to attack and many more.
Also, Jia Yi and I have been training hard for pair during weekends as we practiced a lot on communication and strategy.
JANELLE: I did pool sessions four times a week from the beginning of the year until the end of October, and then six to seven times a week during the post-exam period. I also use post-it notes to plan races, practice some visualization, and eat a healthy diet.
CALEB: I increased training frequency at SSI from twice a week to 4 times per week. Training intensity also increased, as the Table Tennis Association for the Disabled (Singapore), TTADS, specially engaged a sparring partner to train with me to help me work on my weak areas such as receiving service balls, servicing and my footwork. I had more frequent competitive matches against different players that trained at the Singapore Sports Institute (SSI) to gain game experience from the different players and to improve my stamina. I also worked on my fitness at home.
2. What are your thoughts on your performance?
ALOYSIUS: I think that I have kept the games tight with my opponents and did not allow them to have too much space to score. That allowed me to score more points when they started to make mistakes on their shot.
JANELLE: What I think I accomplished well was that I wasn't as nervous as I had anticipated. I feel that I adjusted well to the environment, despite the fact that it took some time to adapt, and I am glad that I was able to execute the race as planned beforehand. What I didn't do so well was that I thought my swimming technique and body position could have been improved. In addition, instead of panicking, I could deal with unexpected situations calmly.
CALEB: Considering this is my first tournament I participated in, I think I did alright. I managed to execute some movements that I trained hard on, but there's still lots of works ahead of me to make myself competitive in my class. I was nervous in my first game and took a while to settle down.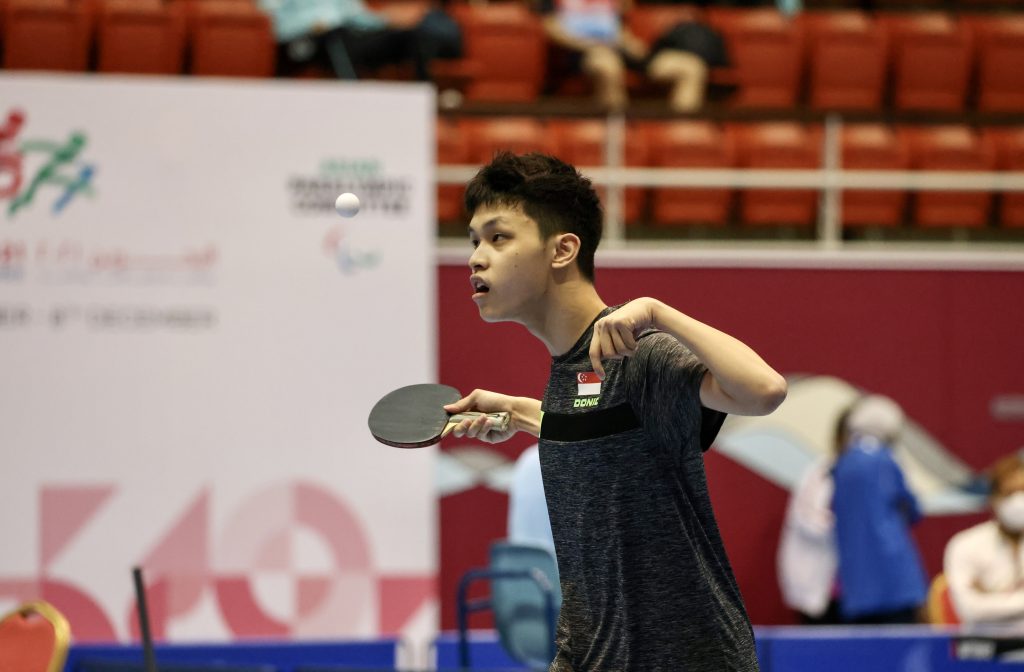 3. Looking back, what were the most memorable moments that happened on the playing field and off?
ALOYSIUS: I felt nervous during the match against Jeong Si-On of Korea, in the individual final. It was a tough fight with him and we went to a tiebreak after the score was tied 3-3 after the fourth end. I was trailing 1-3 at the end of the third end. I felt like my heart would drop out when I released the last two balls in the fourth end of the final.
JANELLE: I had clonus in the morning on the day I had two events (100 free and 100 fly), so my legs were acting up badly. When I experience clonus, my legs begin to shake in the knee area and it becomes uncontrollable. It scared me a little before the race started, since in a fly race, you have to kick simultaneously and coordinate your leg and arm movements, and I was worried that I wouldn't be able to do so because of the clonus. When the race began and I plunged into the water, I accidentally hit my nose on the floor because my leg jerked in the midst of the plunge and I dived too deep into the water. I felt very unsteady when swimming, and as a result, I swallowed a lot of water. At that point in time, the thought of stopping halfway crossed my mind because I was choking really badly, but looking back, I am glad that I still managed to finish the race. After the fly race, I was quite traumatized, having knocked my nose on the pool floor, and I only had a small pocket of time to really get over the poorly done race before it was time for the next race. Looking back, I am glad that I was able to put aside a bad race and focus on the next one. It is a memorable moment because it was the first time I dealt with such a situation, and I think I handled it pretty well. Additionally, making new friends from various countries and getting to know them was definitely a wonderful experience. It is memorable to me because I enjoy meeting new people and forming new friendships while competing.
CALEB: On the field the most memorable moment was when I got to play with opponents from different countries. Standing on the podium, receiving the medal for Singapore was very magical. I felt very proud and happy. Off the court the most memorable moment was that I can represent Singapore in this games and made friends from different countries and being part of Team Singapore with other athletes. Stepping into Bahrain, a country that I did not know of before the Games, these are all memorable to me.
4. How would you sum up the experience? What are some learning points you took away from the Games?
ALOYSIUS: Keep up the hope, concentrate on the next game and play the next ball well. Do not let defeat distract you.
JANELLE: I would sum up the experience as a fulfilling one. Since this is my first time going for a competition overseas, I think it was really a new experience that local competitions are not able to offer. Some learning points I took away from the games is to always expect the unexpected and always be ready to adapt to sudden changes calmly. For example, when I suddenly had clonus on the morning of competition day, I was really panicky because I did not experience it for quite a long time so it came as a surprise to me and it also affected the races that I had on that day.
CALEB: The experience was quite fun and I gained some experience in playing in competitions. I need to stay calm. I was nervous and give away some points. I need to learn to read the playing styles of other players, learn to observe and anticipating their next move.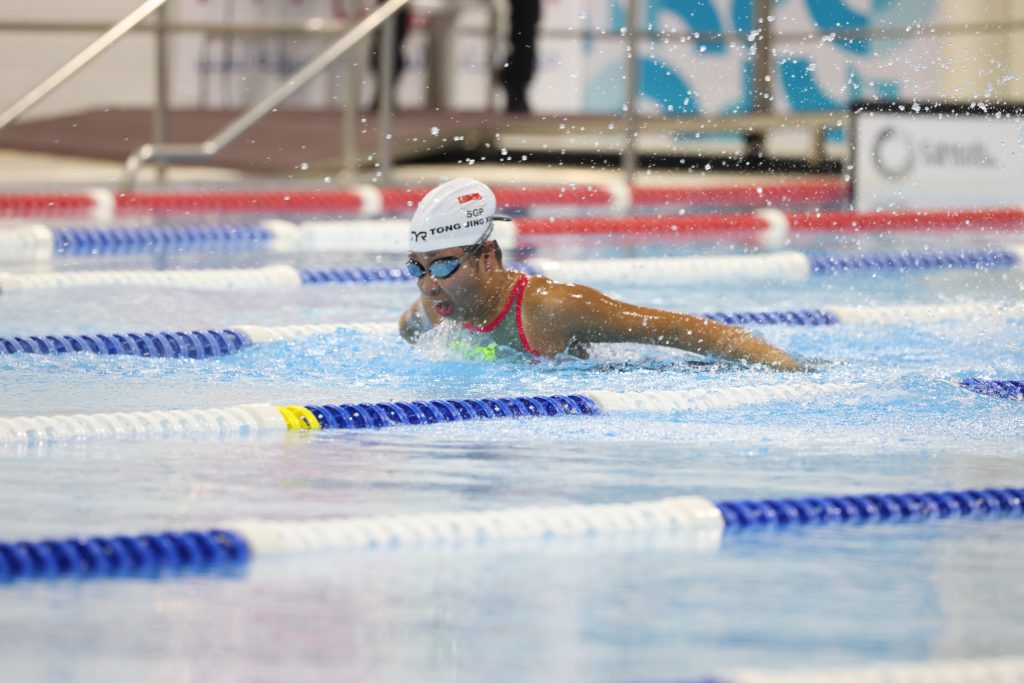 5. Is there anyone in particular you would like to thank and appreciate for supporting your journey and supporting you for these Games?
ALOYSIUS:
a.   Coach Chew Zi Qun – Giving advice before and after the matches
b.   Nurul – Being a good sparring partner before my competition
c.   Daddy (Kagan Gan) – Coaching me Boccia and be my ramp assistant
d.   Mummy (Eve Cher) – Following me to training and giving me advice after training
e.   Mr Lim Yi Yu – Help me to shower and tell me what to improve on the next end during the match
f.   Ms Chua Wei Qing – Help us to record the game and cheer us on
JANELLE: I'd like to express my gratitude to my parents for their unwavering support throughout my journey and for these games. They have put in tremendous effort to ensure that I have the most pleasant journey possible. From making balanced meals to sending me to training nearly every day, I believe it is difficult to handle so many things at once since they have their own responsibilities to attend to. I'd also like to express my gratitude to my Coach Roland Tan and physiotherapist Joshua Chui who have supported me on my journey and helped me prepare for these games. They have always believed in me from the beginning, and they are patient with me even when I take a while to comprehend certain drills and exercises. They've also ingrained in me a number of life principles, and I appreciate their efforts to make me a better person, not just in sports, but in life as well. Last but not least, I'd like to express my gratitude to my friends for their support during my journey and during these games. They've always been incredibly encouraging, cheering me up when I'm down and assisting me with schoolwork when I'm lost. They never fail to inspire me to keep going no matter what, and I am grateful to have so many people to turn to when I am having difficulties.
CALEB: I would like to thank the Coaches, sparring coach, players who have taught me during my training, my family and friends for supporting me in this journey. I would also like to thank TTADS and the Singapore Disability Sports Council (SDSC) for supporting me and nominating me to participate in this competition, and the Singapore National Paralympic Council (SNPC) for selecting me and for organising everything for Team Singapore for the Games.
6. Personally, what's next for you after these Games? What is your next target?
ALOYSIUS: I wish to go to the Paralympics together with all my teammates in Singapore Boccia team. I want to improve on few areas of Boccia skills like: Distance gauging, speed of playing the game so that I have time to go out to the court to check the balls and strategy of the game.
JANELLE: It would be a new academic year for me in Secondary 3 after these games. I'll also be going to strength training classes to help me improve strength in my weaker areas, as it's sometimes tough to do so with just pool sessions. My next target for swimming will be to qualify for the ASEAN Para Games and do better at the next Asian Youth Para Games.
CALEB: Continue to train even harder and prepare myself for next game if I get the chance to go overseas. My target is to represent Singapore at the 2024 or 2028 Paralympic Games.
View the full photo album of Team Singapore at the Bahrain 2021 AYPG here.