8 May 2020
Dr Darren Chua is an athlete defying physical impairment.
April 28, 2000 is a date that Dr Darren Chua holds close to his heart. It was on that day that Dr Darren had a stroke, at the age of 24. In an interview with Yahoo Singapore in March 2019, he shared, "At the point of time, I didn't think I had a stroke even though I was a doctor – most stroke survivors don't suffer from it so young," said Chua.
Dr Darren regained consciousness three weeks later.
Today, Dr Darren is involved in the education and public speaking sector. The motivational speaker relies on the quote, 'Disability is only in the mind' in his everyday work.
Dr Darren is also an ASEAN Para Games medalist, winning gold in table-tennis when Singapore hosted the biennial games in 2015.
1. What is your sporting dreams or goals?
When it comes to sports, as in life, I believe what Michel Phelps said hold true; and that is "You can't put a limit on anything. The more you dream, the farther you get." Being a sportsman is not about being the best in your sport but how we live our life though our sports.
I have received Gold (team event) and Bronze (individual) in wheelchair table tennis. I have completed a full Spartan Race as a person with different-ability (PWD). My next goal is to achieve even more in my individual event (wheel chair table tennis) and to hike up Mt Fuji.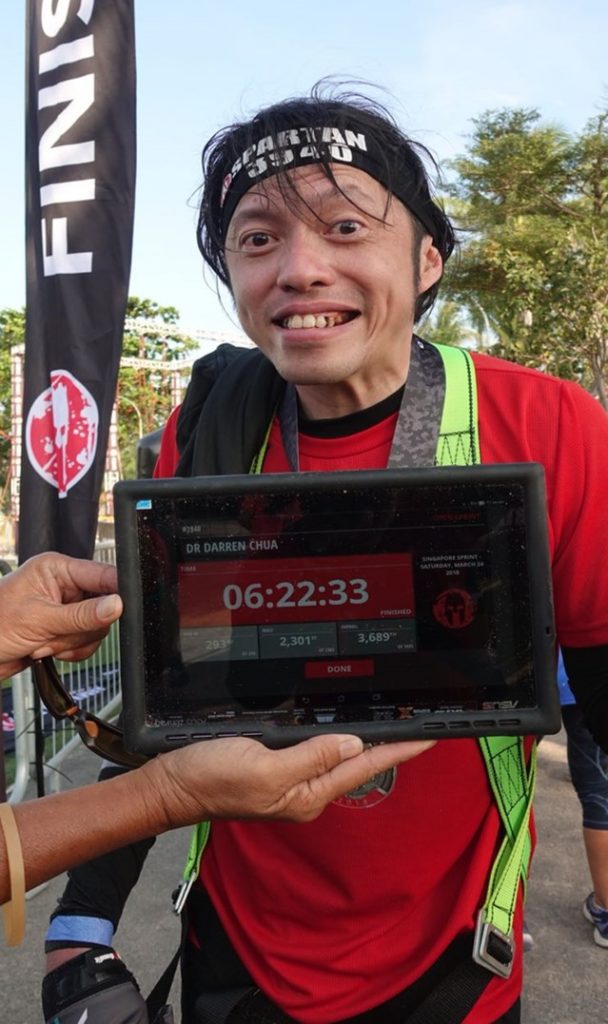 Success in life, as in sports. is not defined by the outcomes we achieve but rather, by the journey that we take. It is about accepting a challenge and overcoming it.
2. How are you working towards achieving it?
The key is through transforming our mindset. Even before we start planning for our physical regime, the fundamental catalyst is that mindset shift which is needed to propel me to the next level.
3. Who are the people you'd like to thank for your sports journey so far?
Definitely, without a shadow of doubt, that will be my wife. She has been the constant support all these while.
4. How has sport changed your life?
Sports has broadened up the space for me to show to everyone that we are defined by what we can do rather than what we cannot do. It is never a case of "what I cannot", but rather about "what I can".
5. How can Singaporeans show more support for para sports?
I find this question difficult to answer. For me, I am always asking what else can I do to have that extra support from Singaporeans / organisations.
6. What does #DefyLimits mean to you?
I have one hashtag that I use for my work for my work and personal social media that is #DisabilityIsOnlyInTheMind. I find both hashtags are aligned in that it is about overcoming odd and establishing our success.
7. Words of advice for persons with impairments who have not tried out sports/want to try sports?
Sports is not just for the fit or for the elite. Sports is a lifestyle and about living life to the fullest.
8. How are you staying positive and keeping fit, despite the current COVID-19 situation?
Keeping to my routine not only my physical exercises but also my mindset framework. Be determine to stay in control (mindset) and not let fear bring us out of control.
About Defy Limits
Defy Limits is SDSC's fundraising campaign for 2020. We can all help athletes with impairments to defy limits – through words of encouragement, acts of kindness, direct monetary contributions or lending your voice to cheer – every little bit counts.