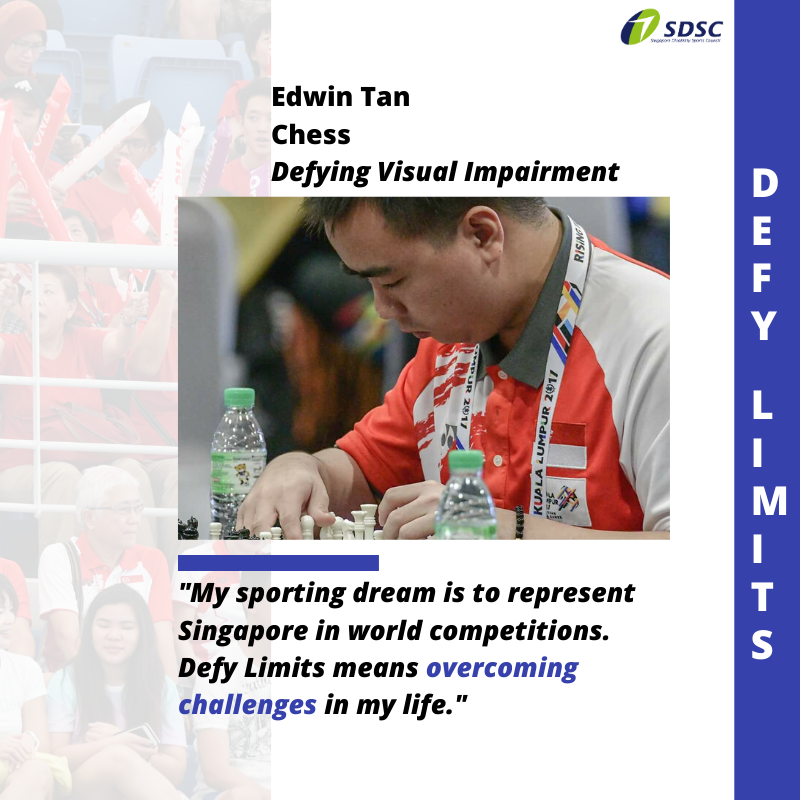 3 April 2020
Edwin Tan is a chess player and has represented Singapore at the ASEAN Para Games in 2015 and 2017. Edwin found out he had As a boy in Primary 6, a routine check-up discovered he had retinitis pigmentosa when he underwent a routine check-up when he was in Primary 6. The Temasek Polytechnic graduate is looking forward to competing and representing Singapore at more competitions.
1. What is your sporting dreams or goals?
My sporting dream is to represent Singapore in World competitions. My goal now is to win a medal in the upcoming Philippines APG.
2. How are you working towards achieving it?
I am attending chess training twice a week and/or listening to online chess videos.
3. Who are the people you'd like to thank for your sports journey so far?
I like to thank my parents for their love and care. Also, I like to thank all my coaches and officials for supporting me.
4. How has sport changed your life?
Chess teaches me values that make me a better person.
5. How can Singaporeans show more support for para sports?
Singaporeans can attend more events related to Para sports
6. What does #DefyLimits mean to you?
Defy Limits means overcoming challenges in my life to me.
7. Words of advice for persons with impairments who have not tried out sports/want to try sports?
Engage yourself through exciting sports
8. How are you staying positive and keeping fit, despite the current COVID-19 situation?
I am staying positive because I believe that good things will happen. I am staying fit by walking around.
About Defy Limits
Defy Limits is SDSC's fundraising campaign for 2020. We can all help athletes with impairments to defy limits – through words of encouragement, acts of kindness, direct monetary contributions or lending your voice to cheer – every little bit counts.