Planning your weekly activities can clearly illustrate whether or not you are staying on schedule.
Powerlifter, Kalai Vanen shares how he makes sure that he sticks to his schedule and continues with training.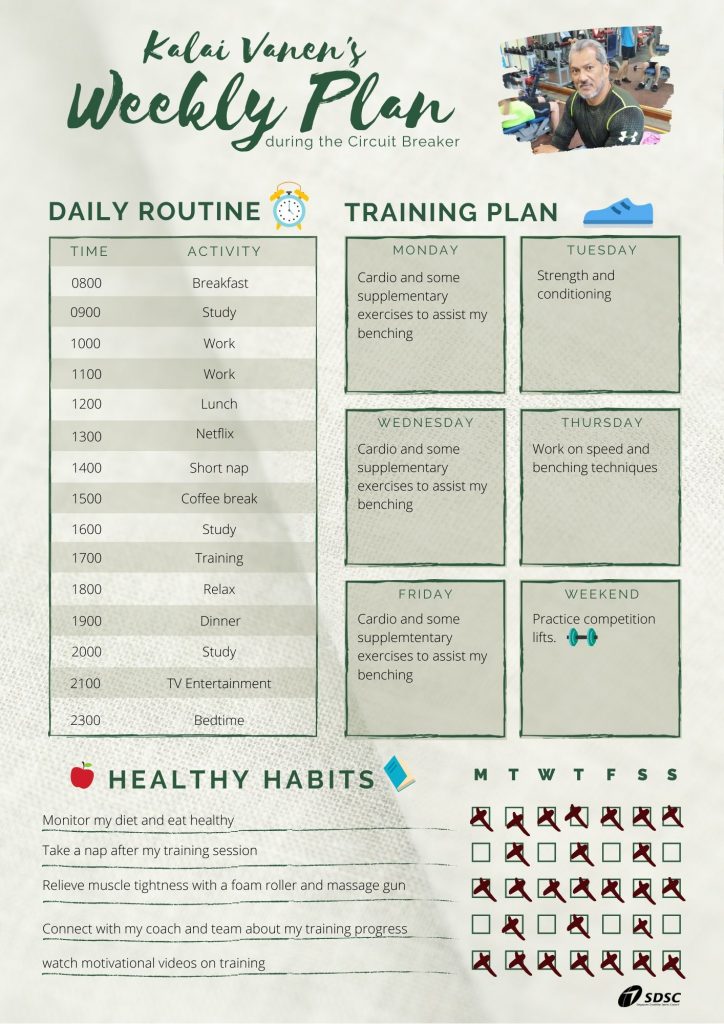 27 May 2020
Why is it important to plan your training sessions at home?
Without the Circuit Breaker (CB), most of us have a fixed routine, such as school, work, training and family. The hours are mostly regular and fixed and the schedule is usually 'dictated' to us.  But with CB, we are left entirely on our own. Though we still have to do the same things while at home, there's always a chance to skip a certain thing, procrastinate or not do them entirely. There's always the kitchen, computer games, tv, etc. as a distraction.
How has your routine changed because of the 'circuit breaker'?
It's important for a weekly plan during CB because we need a self-imposed structure to keep up with what we normally have to do. We can still indulge in the usual 'distractions' of being at home while keeping a discipline of what we need to and have to do daily. My stay at home plans has changed slightly in a positive way. I can now factor in study and self-improvement times, more rest, eating healthier home food, learning to embrace new technology for work, training and play.
Have you broken your routine? If yes, what were some of the outcomes/consequences?
Yes, I have broken my routine. I have to be self-regulating, which is a challenge when you have time in your hands and no one is watching over you. I've lost out a little on work but that's inevitable because I am self-employed and do my work face to face. My training is a little compromised because I don't have full access to my training venue and equipment. Still, I try my best to keep everything as close to non-CB days. There's always a sense of guilt if I skip what I need to do. However because I've laid out my routine by the hour, it gives me little chance to fail.
Share how the community can take charge of their routine with a planner.
With a planner, you can design your days with priorities and give yourself a better chance at success. Of course, there has to be some form of flexibility in your planner but don't allow too much that you deviate from your plan or duties. This you can do by setting yourself a weekly/monthly goal of what you need to achieve. At the end of each week, assess your success or failure from the previous and make the necessary changes but still keep to your original goals.