10 June 2022
By Lim Wei Hao
A teacher's sharing about the Bahrain 2021 Asian Youth Para Games (AYPG) and a quick search on YouTube to find out more – Isaiah Jong's interest in disability sport was piqued. The 9-year-old, who enjoys playing Mario games with his cousins in his free time, was intrigued and wondered if he too would be able to participate in disability sports.
As part of home-based learning, Isaiah's school prepared a section on the AYPG where the students were introduced to athletes with physical disabilities and showcased the various types of disability sports available. Serendipitously, Isaiah also knew one of Team Singapore's representatives who participated in the Bahrain 2021 AYPG, which prompted Isaiah and his mother, Angeline Loh, to do a little more research on disability sports in Singapore.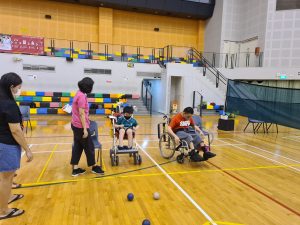 "In class, my teacher told me about the Para Youth Games and that's how I found out about Boccia. She told us about Paralympic sports that were available and I went to search on YouTube and I realised how fun the game looked," said Isaiah.
It was no surprise that Isaiah was intrigued by Boccia given his love for any activity that "included a ball". Isaiah, who has a medical condition called brain stem glioma, has weakness on the right side of his body and uses a wheelchair.
"From young, he has a very great liking for balls. Any ball-related games like marbles, he likes to set up a target and to challenge himself to throw the balls towards it. This was kind of what he has done since young. So when we found out about Boccia, we were all very interested in the game because it ticks the boxes of what he likes, it's totally in line with his interest and what he is able to do and so therefore we thought why not give it a try," said Angeline.
A few phone calls later, Angeline was connected to the Singapore Disability Sports Council (SDSC) and Isaiah was eagerly awaiting the opportunity to give the sport a try. At the end of 2021, SDSC was working hard on plans to roll out the SDSC Boccia (Pre Development / Recreational) @ Pasir Ris programme. With Singapore's COVID-19 situation finally stabilising and with the relaxation of safe management measures, the programme was finally launched in January.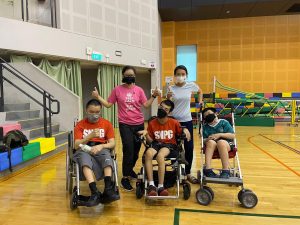 Isaiah has attended six sessions since, and his interest in the sport has grown exponentially.
"It's a new thing for me. When I first started, I was excited because I think it's a really good game to join. Going through the session, you must swing your hand. There's a lot of rules in the game and sometimes you will forget," said Isaiah.
Angeline also appreciates the opportunity for Isaiah to make new friends and to be a part of the sports community.
"Isaiah is in a mainstream school so I do not think that he has seen many people with a similar condition like him. When he started playing boccia it was really good for him to get in contact with other 'kor kor', 'jie jie', who are now friends. I find it really amazing to see them participate in the game and do so well in Boccia. I think that Boccia is definitely a game that is encouraging for anyone or any child with special needs. It encourages them to not to just stay at home and be homebound and to motivates to go out to make friends and to find out what they can do to their best of abilities, I think that is very important," said Angeline.
Isaiah, who enjoys the strategy and competitive nature of Boccia, has dreams of one day representing Singapore at an international competition. When asked to share words of encouragement for others who may be interested to take up disability sports, Isaiah shared "I just want them to try their best and don't be afraid to join sports".
For Angeline, it has been a joyous process seeing Isaiah pick up a new sport and she has been learning alongside Isaiah every step of the way.
"I think that every child regardless of their ability has a potential to fulfil. I want to encourage anyone who has a child with special needs or physical challenges, to try Boccia, go out to make friends, and to find out what they can do to their best of abilities. I think that is very important," said Angeline.
Isaiah's journey has only just started and it will be one that will see many ups and downs, but with many lessons and takeaways as well. Just like how Isaiah has found a community, you can join the community too.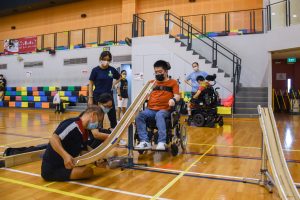 With the strong support of Pasir Ris Sport Centre, SDSC has launched the new SDSC Boccia (Pre Development / Recreational) @ Pasir Ris. Training takes place every Saturday at the ActiveSG Pasir Ris Sport Centre, between 9.00am-4.00pm. Please find out more about Boccia here.