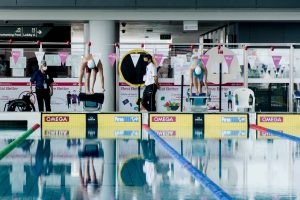 Para Swimming is a popular competitive sport that caters to athletes of various disabilities and has been contested across various disability sport competitions around the world. In Singapore, Swimming serves as a form of rehabilitative sport as well as a competitive sport that engages the participant in active movement while enabling them to push themselves to their limits. The governing body for Swimming is World Para Swimming, and it incorporates the rules of the Federation Internationale de Natation (FINA).
In Para Swimming, regulations from FINA are adhered to accordingly, except with certain modifications, such as optional platforms, in-water starts for some races or the use of signals or "tappers" for swimmers with visual impairment. However, no prostheses or assistive devices are permitted. Competitors can also start the race in different positions (standing, sitting or in the water) depending on their disability.
Swimming caters to a diverse classification of disabilities and caters for three impairment groups: physical, visual, and intellectual. The classification system in place ensures that swimmers compete with others of the same level of ability. The athletes are tested on their abilities and skills in backstroke, breaststroke, butterfly, freestyle, and medley. The name classification for Swimming includes a prefix and a number. The prefix represents the strokes as follows: S for Freestyle, Butterfly and Backstroke events, SB for Breaststroke events and SM for individual medley events.
These prefixes are then followed by a number to indicate the class. Lower class numbers indicate a greater level of impairment for the sport. The sport classes are as follows:

National Record
Para Swimming Women National Record
Para Swimming Men National Record
Para Swimming Mixed National Record
Classification
2021 Swimming Classification Masterlist
Benefits of Swimming
Swimming caters to a diverse range of disabilities, it serves as a flexible option for swimmers to gain agility, muscle strength and stability while keeping fit with an active lifestyle. It engages the swimmer in movements that will greatly boost their physical and mental health, hence promoting their overall wellbeing and making it a feasible option for rehabilitation. As being in the water allows for a sense of weightlessness, it also aids in alleviating pressure and allows the swimmer to feel free and at ease, making Swimming the ultimate adventure for those who seek to grow in strength and flexibility.