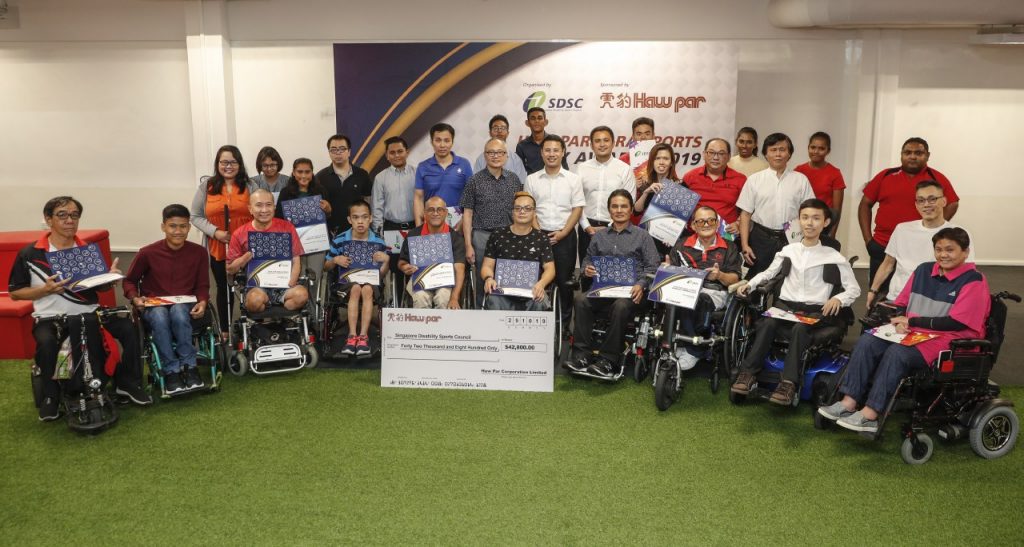 The second edition of the Haw Par Para Sports Bursary Awards organised by the Singapore Disability Sports Council (SDSC), was held today at the National Youth Sports Institute Satellite @ Kallang. 31 deserving para athletes from disadvantaged backgrounds received awards to continue to pursue sports excellence.
Amongst the 31 para athletes who received the award this year, 11 will be participating in the upcoming ASEAN Para Games 2020 in January in the Philippines. One of them is multiple ASEAN Para Games medallist and table-tennis player Eric Ting, a return applicant for the awards.
"The Haw Par Para Sports Bursary Awards has been important in defraying cost of training and competitions, helping me to continue playing the sport that I love. I can't wait to represent Singapore at the ASEAN Para Games and will work hard to bring glory to Singapore," said Eric Ting.
The award ceremony was attended by Guest of Honour, Mr Desmond Lee, Minister for Social and Family Development and Second Minister for National Development, and Mr Tarn Sien Hao, Group General Manager, Haw Par Corporation Limited.
This year's Haw Par Para Sports Bursary Awards saw an increase in the number of award winners (29 to 31) when compared to the inaugural awards held last year. The total award quantum for the awards also saw an increase of $200 to $42,800, bringing Haw Par's support over two years to a total of $85,400. Award winners received between $900 and $1,800. The financial support provided will assist Singapore's para athletes to strive to achieve more in their sport. Factors such as occupation, household income, support needs, current performance and reasons for application were taken into account by the selection committee.
Haw Par Corporation Limited has been one of SDSC's key sponsors since 2015. The kind funding support from Haw Par has empowered SDSC to carry out various programmes and initiatives that have helped to shape the vibrant disability sports scene we have today in Singapore.
"Our para athletes continually demonstrate qualities such as resilience, strength, and courage through their rigorous training and competitions. Such values resonate strongly with all of us at Haw Par. By sponsoring the Haw Par Para Sports Bursary Awards, we want to encourage more persons with disabilities to take up para sports." said Mr Wee Ee Lim, President & CEO, Haw Par Corporation Limited.
SDSC hopes more organisations can follow in Haw Par's footsteps to show support to Singapore's para athletes. Ms Kelly Fan, Executive Director of Singapore Disability Sports Council, "Pursuing sports is often an afterthought for many persons with disabilities (PWDs), given that finances are allocated to other areas of life. The Haw Par Para Sports Bursary is a call for PWDs, regardless of financial background, to dare to dream. We are thankful to Haw Par for many years of stellar support and are hopeful that more corporations can help play an instrumental role to lay the foundation to change lives through sports."
###