Para Bowling and Para Archery score big wins at Singapore Disability Sports Awards 2020
Para bowler Eric Foo takes home Sportsman of the Year and Team of the Year, won alongside teammate Muhammad Farhan Bin Ismail
World No. 1 para archer Nur Syahidah Alim crowned Sportswoman of the Year alongside her coach, Pang Qing Liang, named Coach (High Performance) of the Year
Toh Wei Soong named Sportsboy of the Year for second year in a row
Singapore, 7 August 2020 – Para bowler Eric Foo capped off a wonderful year as he emerged as the biggest winner at the Singapore Disability Sports Awards presented by Haw Par Corporation.
Organised by the Singapore Disability Sports Council (SDSC), the awards aim to recognise the achievements and contributions made by individuals or groups in the disability sports community. This year's ceremony was held virtually and the event was streamed live on SDSC's Facebook page.
The virtual award ceremony was graced by Guest of Honour, Mr Edwin Tong, Minister for Culture, Community and Youth & Second Minister for Law, and Ms Jasmin Hong, General Manager (Marketing), Haw Par Healthcare.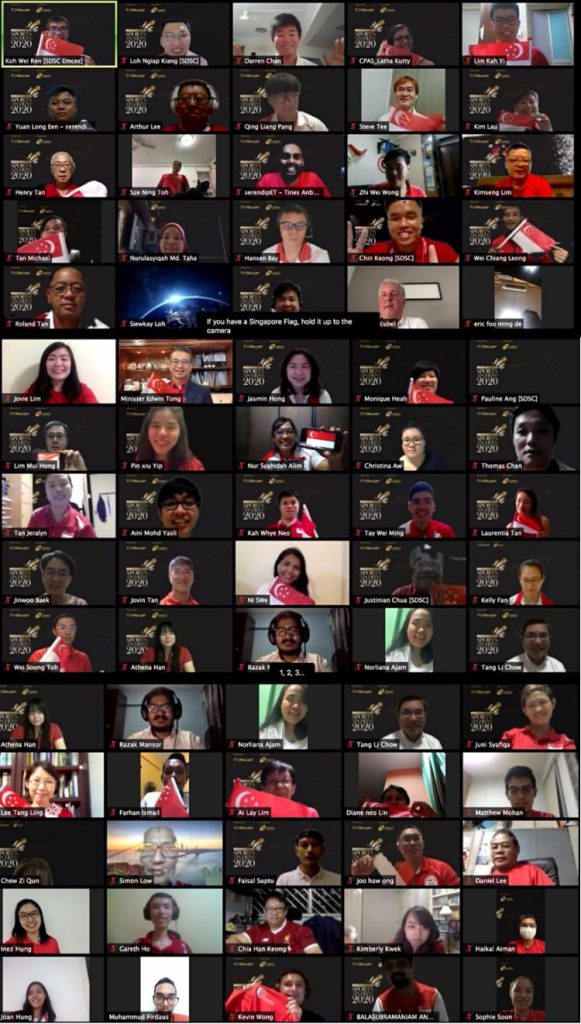 "My heartiest congratulations to the disability sports community for their sterling achievements!  COVID-19 has affected many competition and training schedules, but not the spirit and dedication of our Team Singapore athletes.  Beyond supporting our para athletes on their sporting journey, we are also committed to providing more opportunities for persons of all abilities to participate in sport. Let us work towards building a more inclusive society where we can all play and enjoy sport together," said Mr Tong.
Foo, who has intellectual impairment, bowled his way to victory at the Thailand World Para Bowling Championship 2019 and the Philippines World Para Bowling Championship 2019, earning four individual medals and two team medals. Foo edged out four other nominees to be crowned Sportsman of the Year.
Foo's two team medals were won when he partnered teammate Muhammad Farhan Bin Ismail in mixed doubles and doubles events at the same competitions. Their achievements saw them named Team of the Year.
"Eric's achievements in the past year has shown that his dedication to training has paid off. He has set an example for his teammates and we are so pleased that he has been recognised for his efforts. For bowling to win in two award categories is testament to the work that the association does and we want to continue developing the sport", said Florence Khemlani, President, Bowling Association for the Disabled (Singapore) (BADS). BADS is an Associate Member of SDSC.
World No. 1 Nur Syahidah Alim's fairytale year continues after historic feats achieved in 2019 where she won gold at the 2019 World Para Archery Championship and at the 2019 Asian Para Archery Championship. Syahidah also serves as chairperson of Singapore Para Athletes Commission and a member of the Asian Paralympic Committee Athlete's Commission, where she contributes to the development of para sport in the region.
The success Syahidah has achieved was in large part due to the strong chemistry she has with her coach, Pang Qing Liang, who picked up the Coach (High Performance) of the Year title. Pang, 29, was the youngest coach to be nominated and has only started coaching more than a year ago. The pair have their eyes set on achieving a podium finish at the Tokyo 2020 Paralympic Games.
Para swimmer Toh Wei Soong made it two from two, as he was named Sportsboy of the Year for the second year in a row. Toh won two of three medals won by Singapore at the Singapore 2019 World Para Swimming World Series, and also triumphed at the 2019 Japan Para Swimming Championships, winning two gold medals there. Toh, a Toyota 'Start Your Impossible' (SYI) Hero athlete, has been a strong advocate in encouraging more young persons with disabilities to embark on their sporting journeys. He believes educators and teachers have an important role to play in this process.
Henry Tan, a veteran sports administrator in Singapore, was awarded the Lifetime Achievement Award. Tan served as a volunteer of SDSC from 1974 to 2012. In that time, he was also a volunteer coach for the wheelchair tennis team. Tan holds a close relationship with many athletes, having interacted with many of them when he was Chef de Mission for the ASEAN Para Games 2004, Athens 2004 Paralympic Games and the Guangzhou 2010 Asian Para Games. In 2012, Tan became Executive Director of SDSC, overseeing a very successful Rio 2016 Paralympic Games, before eventually retiring in 2017.
"These past few months have been challenging for our para athletes and community who have had to adapt and be resilient, to continue training amidst a health crisis. It is this spirit that sets them apart. It is for this reason that we wanted to continue to hold the awards virtually. With the COVID-19 pandemic in full force, SDSC is thankful to be supported by partners like Haw Par Corporation, who remain steadfast and continue to actively contribute to disability sports in Singapore. We are hopeful that more partners can step forward to lend their support. With additional resources for our programmes and athletes, we are certain that we will have even more milestones to celebrate in the future," said Kevin Wong, President, SDSC.
This year's SDSA is made possible with the support of Haw Par Corporation's corporate social responsibility initiative and its donation of $120,000 to the SDSC. A supporter of the SDSC since 2015, Haw Par Corporation took on the role of presenting partner for the event for the second year in a row. Apart from the awards, the donation will also be channeled towards developing the sport of boccia and administering the Haw Par Para Sports Bursary Awards. This is the third time the SDSA has been held, after previous editions in 2019 and 2008. Introduced for this year's awards, members of the public were able to vote for nominees of the awards in the Contributor category.
Please download full media release from here.